Sometimes exercise is not enough to tighten loose abdominal muscles, especially after pregnancy or weight loss. If the skin around your mid-section is loose and sagging, or you have many stretch marks then a tummy tuck may be the best way to achieve a flatter, tighter abdomen.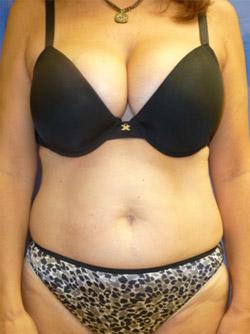 Before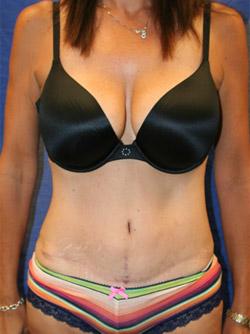 After
View more before and after photos

Dr. Chattar-Cora will examine you and help you determine whether or not a tummy tuck is the best option. If you have prominent love handles, to enhance the results of a tummy tuck simultaneous liposuction of these areas may be suggested. The goal is to have a smooth, flat abdomen that blends with the rest of your body.
Dr. Dee believes that a patient should not be pressured into making an important and personal decision such as surgery.  In his office you will feel at home. Dr. Chattar-Cora believes the purpose of your cosmetic surgery consultation is for you to become educated and informed about abdominal body contouring surgery so that you can make an educated decision about whether an abdominoplasty is the right procedure for you.
Request a private consultation
Good candidates have reached a stable weight, do not smoke (or are in the process of quitting), and do not have medical conditions that prohibit safe surgery and normal wound healing. Patients whose weight has stabilized in their weight loss regimen or who feel they are at their expected weight are the best candidates for a tummy tuck. To determine if you are a good candidate for an abdominoplasty, during your consultation Dr. Chattar-Cora will review your medical history and examine you to suggest which procedure is best for you.
Types of abdominoplasty
There are three types of tummy tucks, and Dr. Chattar-Cora will explain each procedure and help you determine the procedure that is best for you:
Mini Abdominoplasty – removes the loose skin below the belly button (shortest scar)
Standard Abdominoplasty – removes loose skin and tightens the abdominal muscles (standard or handle bar scar)
Extended Abdominoplasty – tightens the abdominal muscles and removes loose skin from the abdomen and lower back   (longest scar extending around the love handles onto lower back)
By listening to you and understanding your expectations and examining you, an appropriate recommendation will be made. That suggestion might even be that nothing be done. Sometimes, Dr. Chattar-Cora may recommend a different procedure to save you time and money.
Frequently asked questions
How long does the abdominoplasty surgery take?
The actual surgery will depend on which procedure(s) is (are) done but it usually takes two to four hours, and surgery is done under general anesthesia (mini abdominoplasty can be performed under sedation and local anesthesia). Afterwards you will spend time in the recovery room and will be discharged home when you have met all health and safety criteria.
To help prevent complications associated with fluid buildup you might have drains placed during your procedure. Instructions on caring for these drains and other postoperative instructions will be given to you when you are discharged home.
Request a private consultation
What will my follow up be?
You will be seen in our office within one week after your surgical procedure. Pain is usually well controlled with the medication provided to you. Once your pain is controlled without prescription medications you can drive a car.  Depending what procedure(s) you have done and what your activity level at your job is, plan on taking one to two weeks off from work.  All your routine follow-up care is included in the original surgical fee and covers one year of routine visits.
How soon can I return to normal activity?
You are allowed to shower the next day after surgery and drive a car within three to five days if you are not taking prescription pain medications. Recuperation after an abdominoplasty will vary depending on which procedure you undergo. Depending on which procedure is done light activity is comfortable in 7 to 20 days, but heavier activity will not be comfortable for about 6 weeks, especially if your muscles are tightened.
What will it cost?
The cost of an abdominoplasty in San Antonio varies based on the type of procedure that is done. We offer patient financing plans, so be sure to ask. The cost may include the following:
Surgeon's fee
Hospital or surgical facility costs
Anesthesia fees
For your abdominoplasty procedure Elite Plastic & Reconstructive Surgery is the right place to go to. Dr. Chattar-Cora will consult with you on all aspects of the procedure, including cost. Your satisfaction involves more than a fee. When choosing a plastic surgeon for cosmetic surgery, remember that your comfort with him or her are just as important as the final cost of the surgery. Dr Chattar-Cora takes his time to understand your goals and desire for the best long term outcome.
Request a private consultation
Most health insurance plans will not cover cosmetic surgery related complications, or another surgery to revise the appearance of your abdomen. You must carefully review your health insurance policy.
Algunas veces el ejercicio  no es suficiente  para reafirmar los músculos abdominales flácidos, especialmente después del embarazo o la pérdida de peso. Si la piel alrededor de su abdomen luce flácida o tiene muchas estrías, entonces una cirugía de abdomen puede ser la mejor manera de obtener un abdomen más firme y plano.El Dr. Chattar-Cora le examinará  y le ayudará a determinar  si la cirugía de abdomen es la mejor opción. Si usted padece de llantitas o lonjitas prominentes, se le puede sugerir una liposucción simultánea en dichas áreas, ya que ello podría mejorar los resultados de una abdominoplastia. El objetivo es lograr un abdomen plano, liso y en proporción con el resto de su cuerpo.
El Dr. Dee cree firmemente que a un paciente no se le debe presionar para que tome una decisión tan importante y tan personal como lo es una cirugía.  Al llegar a su oficina usted se sentirá como en casa. El Dr. Chattar-Cora cree que el propósito de su primera consulta debe ser para que usted se informe y eduque acerca de la cirugía, de tal manera que usted tome una decisión bien fundamentada acerca de si la abdominoplastia es el procedimiento quirúrgico ideal para usted.
Un buen candidato es aquel que ha logrado un peso estable, que no fuma (o está en el proceso de dejar de fumar), y que no padece condiciones médicas que le prohíban una cirugía segura y un proceso normal de curación de las heridas. Los mejores candidatos para una cirugía de abdomen son aquellos pacientes cuyo peso se ha estabilizado tras su régimen de pérdida de peso o aquellos que sienten que están en su peso ideal pero cuya piel en el área del abdomen ha perdido su elasticidad. Para determinar si usted es un buen candidato para una abdominoplastia, el Dr. Chattar-Cora revisará durante una consulta su historial médico y le realizará un reconocimiento médico con el fin de recomendarle el mejor procedimiento.
Tipos de abdominoplastia
Existen tres tipos de cirugía de abdomen, y el Dr. Chattar-Cora le explicará cada procedimiento y le ayudará a determinar cuál es el mejor para usted:
Mini Abdominoplastia – remueve la piel flácida mediante una pequeña incisión bajo el ombligo (deja la cicatriz más pequeña de todas)
Abdominoplastia clásica o estándar – remueve la piel flácida y reafirma los músculos abdominales (deja una cicatriz estándar del tamaño de un manubrio. La cicatriz esta cubierta por la ropa interior)
Abdominoplastia circunferencial – reafirma los músculos abdominales y remueve el exceso de piel en el abdomen y la parte baja de la espalda (deja la cicatriz más larga, la cual se extiende de los lados de la cintura hasta la espalda. La cicatriz esta cubierta por la ropa interior).
Una vez que se le haya escuchado, se entiendan sus expectativas y se le haya realizado un reconocimiento médico, el Dr. Chattar-Cora le hará la recomendación apropiada. Él le podría recomendar algún otro procedimiento que le ahorre tiempo y dinero o incluso le podría recomendar que no se someta a  ningún tipo de cirugía.
Preguntas más frecuentes
¿Cuánto tiempo tarda una cirugía?
El tiempo de la cirugía en sí dependerá del procedimiento o procedimientos que se lleven a cabo, pero por lo regular toma de dos a cuatro horas y se lleva a cabo bajo anestesia general, (la mini-abdominoplastia puede realizarse con anestesia local y sedantes). Después de la cirugía se le trasladará a la sala de recuperación y se le dará de alta cuando cumpla con todos los criterios médicos de salud y seguridad.
Es posible que se le coloque un drenaje quirúrgico, esto con el fin de prevenir complicaciones relacionadas con la acumulación de fluidos. Se le darán instrucciones sobre el cuidado y mantenimiento de dichos drenajes así como instrucciones generales postoperatorias cuando se le dé de alta y pueda regresar a su casa.
¿Cuándo se llevará a cabo mi siguiente cita?
Su siguiente consulta se llevará a cabo dentro de la primera semana después de su operación. Por lo general el dolor se puede controlar con los medicamentos que le daremos. Una vez que el dolor se pueda controlar sin analgésicos recetados, usted estará en condiciones de conducir un vehículo.
Todo depende del tipo de cirugía(s) a las que se va a someter, así como del nivel de actividad de su trabajo, pero por lo general debe tomarse un permiso de ausencia por enfermedad de una a dos semanas. Todos sus cuidados de rutina posteriores están incluidos en el precio original de la cirugía y dichos honorarios cubren todo un año de consultas de rutina.
¿Cuándo puedo resumir mis actividades normales?
Usted puede ducharse el día después de su cirugía y conducir un auto en un periodo de tres a cinco días si usted no está tomando medicamentos recetados para el dolor. El periodo de recuperación de una abdominoplastia varía. Dependiendo del procedimiento al cual se sometió,  usted podría realizar actividades ligeras y no extenuantes en un periodo de 7 a 20 días. Una actividad más intensa o pesada no podrá llevarse a cabo cómodamente hasta que hayan pasado unas 6 semanas, especialmente si sus músculos abdominales han sido suturados.
¿Cuál es el costo de una cirugía de abdomen?
El costo de una abdominoplastia varía de acuerdo al tipo de procedimiento que se lleva a cabo. Ofrecemos planes de financiamiento, así que no dude en preguntar. El costo total puede incluir lo siguiente:
honorarios del cirujano
costos de hospital o de la sala de cirugías
costo de la anestesia
Elite Plastic & Reconstructive Surgery es el lugar ideal para su abdominoplastia. El Dr. Chattar-Cora le explicará todos los aspectos del procedimiento, incluyendo el costo.  Su satisfacción conlleva más que un pago. Cuando elija un cirujano plástico para su cirugía cosmética, recuerde que la relación doctor-paciente y nivel de comodidad con su cirujano es tan importante como el costo final de su cirugía. El Dr. Chattar-Cora le dedicará el tiempo que sea necesario para entender sus objetivos y deseos para que usted obtenga los mejores resultados a largo plazo.
La mayoría de los planes de seguro de salud no cubren complicaciones relacionadas con la cirugía cosmética u otra cirugía para corregir la apariencia de su abdomen. Por eso es importante que revise cuidadosamente su póliza de seguro médico.