Español
English
San Antonio Plastic Surgeon
El cirujano plástico de San Antonio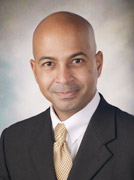 Deowall Chattar-Cora, MD is a Board Certified plastic and reconstructive surgeon. Born and raised in New York City, Dr. Dee, as many of his patients call him, dreamed of becoming a doctor from age four. In college, his love for interdisciplinary learning and a drive to understand the human experience spured him to major in liberal arts studies at Sarah Lawrence College in New York. Dr. Dee not only gained a solid foundation in the sciences, but he also studied history, psychology, art, literature, among others. This breadth of study continues to serve him well in understanding all types of persons, experiences and needs.
Dr. Dee completed his medical education at the prestigious New York University School of Medicine, where he honed his skills in the sciences and nurtured his desire to understand and help people. But he also realized the importance of research, of uncovering and learning better ways to heal. He spent a year after medical school conducting research and publishing new findings in several medical journals.
It was during his research year that Dr. Dee realized he wanted to specialize in plastic surgery. To prepare for this complex field, he completed a five-year general surgery residency at Morristown Memorial Hospital in New Jersey. While there, he was on two occasions elected as educator of the year. He next returned to his roots, to the hospital where he was born: the Jacobi Medical Center/Albert Einstein College of Medicine in Bronx, New York, where he spent a year doing a burn surgery fellowship. He learned a lot about treating badly burned patients and performing complex operations.
Every patient is unique, and my deep repertoire of knowledge helps me to customize their surgery and care.
But the height of Dr. Dee's training was his subsequent three years of plastic and reconstructive surgery residency, at the University of Texas Health Science Center, in San Antonio. He excelled in the many technical facets of plastic and reconstructive surgery. But more importantly, he perfected his skills in always putting his patients first.
Dr. Dee also continued to believe in the value of research, as a way of advancing the field and helping patients. He published several articles on cosmetic and plastic surgery. One of his studies was cited as the best clinical research at the annual meeting of the Texas Society of plastic surgery. His training program also bestowed on him the Jaime Garza award for clinical and research excellence. And a diehard believer in excellent training, like an orchestra which never takes practicing their craft lightly, Dr. Dee completed an additional year of training in hand surgery to further refine his skills.
After his vast training, Dr. Dee joined the faculty of the University of Texas Health Science Center at San Antonio medical school, as an Assistant Professor of Surgery. During his more than five and half years with the medical center, he held dual appointments with the Division of Plastic and Reconstructive Surgery and the Department of Orthopedic Surgery. He was chosen by the plastic surgery residents as the educator of the year. Dr. Dee has also made several humanitarian trips to Africa over the years, where he performed many complex and life-saving plastic and reconstructive surgeries on those who would otherwise had no access to his expertise or be able to afford such operations.
Dr. Dee is a member of the American society of Plastic and Reconstructive surgery, and a candidate for membership with the American Society of Aesthetic Plastic Surgery. He is certified by the American Board of Plastic Surgery, the only plastic surgical organization recognized by the American board of Medical Specialists.