Gynecomastia is enlargement of male breast tissue, which feels rubbery under the male nipple areola complex. Like women, men are born with breast tissue. However women produce enough estrogen that stimulates breast tissue to enlarge over time. Throughout various times in a male's life, he may be exposed to higher levels of estrogen. These increased levels of estrogen may lead to gynecomastia. Gynecomastia may enlarge one breast but the usual presentation involves both. There are various reasons why gynecomastia ocurrs, the most common is from an imbalance of hormones seen during puberty. As the hormone levels return to normal, gynecomastia may correct itself. Pseudogynecomastia is a condition that appears similar to gynecomastia, but it is due to excess fat tissue in the male chest region; pseudogynecomastia will not resolve as the hormone levels correct. It is not unusual for patients to have both excess breast and fat tissue.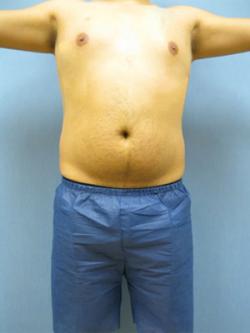 Before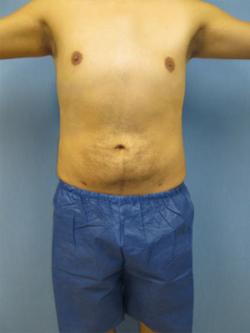 After
*View more before and after photos

Enlarged male breast can be a source of concern and embarrassment for some boys and men. Affected males may even be teased by others. It is not unusual for affected individuals to wear multiple layers of clothing or keep their shirts on during social situations where men would normally remove their tops.
What are the causes of enlarged male breast?
Hormone imbalances secondary to puberty
Hypersensitivity of the male breast tissue to certain hormones
Hormone imbalances due to tumors of the pituitary gland, thyroid gland, adrenal gland or testicles
Hormone imbalances due to use of anabolic steroids
Certain medications
Use of marijuana
Liver or kidney failure
Are there treatments available for gynecomastia and pseudogynecomastia?
Fortunately there are treatments available. Treatment will depend on the length of time that the condition has been present and what the cause is. If the condition has been present for short a period of time, it is not unreasonable to observe the patient. Any potential medications or drugs that area associated with these conditions should be discontinued if possible.
If the condition has been present for a long time or once the breast tissue has grown beyond a certain size, it rarely goes away. The only real cure for gynecomastia or pseudogynecomastia is surgical excision with liposuction or male reduction surgery that may require slightly longer scars. It is not unusual that a combination of both procedures may be required.
Request a private consultation
During your clinical evaluation at Elite Plastic & Reconstructive Surgery, Dr. Chattar-Cora or Dr. Dee as some of his patients call him, will listen to your concerns and expectations. He will then get a history and perform a physical examination on the relevant areas. Depending on your clinical situation, he may order some blood tests or special x-rays. Since Dr. Dee's primary goal is to give you a harmonious cosmetic outcome that meets your stated goals, he may bring to your attention areas that you may have not been aware of.
Dr. Chattar-Cora believes the purpose of your consultation is for you to become educated and informed about your unique condition so that you can make an educated decision about whether male breast surgery is the correct procedure for you. Dr. Dee believes that a patient should not be pressured into making an important and personal decision such as the need for surgery.
What is the recovery? What results can I expect?
Gynecomastia surgery is usually an outpatient procedure. Immediately after your procedure you will spend time in the recovery room and will be discharged home after you meet all health and safety criteria. If your surgery is an outpatient procedure, you should arrange to have someone drive you home afterwards and stay with you at least the first night following surgery.
After surgery your chest area may be bruised, swollen and sore for one to two weeks. You'll need to wear a compression shirt after your operation. You will be allowed to shower the day after your surgery. With time the swelling will improve, the incisions will fade and become less noticeable, and your chest appearance will continue to improve. After Gynecomastia in San Antonio you may experience some change in chest and nipple sensation, however sensation gradually returns.
The results of your surgery will be long lasting. You will be able to maintain the results of your procedure by following a healthy lifestyle and watching your weight.
Are there risks with male reduction or liposuction breast surgery?
Some risks that may be associated with gynecomastia surgery include:
Bleeding
Scarring
Infection
Asymmetry
Changes in the sensation of the chest wall or nipples
Recurrence
Problems with wound healing
However, these risks are unusual and Dr. Dee takes extreme care to minimize the chance that they happen to you
Request a private consultation
What is the cost of male breast reduction surgery?
The cost of male breast surgery varies based on which procedure is chosen. We offer patient financing plans, so be sure to ask. The cost will include the following:
Surgeon's fee
Hospital or surgical facility fees
Anesthesia fees
The details of these fees and financing plans will be explained during your consultation with Dr. Dee. Call 210-265-1924 for your appointment, or contact us by email.
Your satisfaction involves more than a fee. When choosing a plastic surgeon for your area of concern, remember that your comfort with the surgeon and his or her willingness to be honest is as important as the final cost of the surgery. At Elite Plastic & Reconstructive Surgery Dr. Dee takes his time to understand your goals and desire for the best long term outcome.
La ginecomastia es un agrandamiento del tejido mamario masculino, que se siente gomoso bajo el complejo de aureola masculina del pezón. Al igual que las mujeres, los hombres nacen con tejido mamario. Sin embargo, las mujeres producen suficiente estrógeno que estimula el tejido mamario para agrandarse con el tiempo. A lo largo de varios momentos en la vida de un hombre, puede estar expuesto a niveles más altos de estrógeno. Este aumento de los niveles de estrógeno puede causar a la ginecomastia. La ginecomastia puede agrandar un seno, pero la presentación habitual incluye ambos. Hay varias razones por las cuales ocurre la ginecomastia, la más común es debido a un desequilibrio de hormonas que se observa durante la pubertad. A medida que los niveles hormonales vuelven a la normalidad, la ginecomastia puede corregirse. La pseudoginecomastia es una condición que parece similar a la ginecomastia, pero se debe al exceso de tejido graso en la región del pecho masculino; La pseudoginecomastia no se resolverá como los niveles hormonales correctos. No es raro que los pacientes tengan exceso de tejido mamario y grasa.
Los senos masculinos agrandados pueden ser una fuente de preocupación y vergüenza para algunos niños y hombres. Los varones afectados pueden incluso ser molestados por otros. No es inusual que las personas afectadas usen varias capas de ropa o se mantengan las camisas puestas durante situaciones sociales en las que los hombres normalmente se quitan la parte superior.
¿Cuáles son las causas del agrandamiento del pecho masculino?
Desequilibrios hormonales secundarios a la pubertad.
Hipersensibilidad del tejido mamario masculino a ciertas hormonas.
Desequilibrios hormonales debidos a tumores de la glándula pituitaria, glándula tiroides, glándula suprarrenal o testículos
Desequilibrios hormonales debido al uso de esteroides anabólicos
Ciertos medicamentos
Consumo de marihuana
Insuficiencia hepática o renal¿Existen tratamientos disponibles para la ginecomastia y la pseudoginecomastia?

Afortunadamente hay tratamientos disponibles. El tratamiento dependerá de la cantidad de tiempo que la condición haya estado presente y de cuál sea la causa. Si la condición ha estado presente por un corto período de tiempo, no es irrazonable observar al paciente. Si es posible, se debe suspender cualquier medicamento o medicamento potencial que se relacione con estas condiciones.

Si la condición ha estado presente durante mucho tiempo o una vez que el tejido mamario ha crecido más allá de cierto tamaño, rara vez desaparece. La única cura real para la ginecomastia o la pseudoginecomastia es la extirpación quirúrgica con liposucción o cirugía de reducción masculina que puede requerir cicatrices ligeramente más largas. No es raro que se requiera una combinación de ambos procedimientos.

Durante su evaluación clínica en Elite Plastic & Reconstructive Surgery, el Dr. Chattar-Cora o el Dr. Dee, como lo llaman algunos de sus pacientes, escucharásus inquietudes y expectativas. Luego obtendrá un historial y realizará un examen físico en las áreas relevantes. Dependiendo de su situación clínica, él puede ordenar algunos análisis de sangre o radiografías especiales. Debido a que el objetivo principal del Dr. Dee es brindarle un resultado cosmético armonioso que cumpla con sus objetivos establecidos, puede llamar su atención sobre áreas de las que tal vez no haya sido consciente.

El Dr. Chattar-Cora cree que el propósito de su consulta es que usted se eduque e informe sobre su afección única para que pueda tomar una decisión informada sobre si la cirugía de senos masculinos es el procedimiento correcto para usted. El Dr. Dee cree que no se debe presionar a un paciente para que tome una decisión importante y personal, como la necesidad de una cirugía.

¿Cuál es la recuperación? ¿Qué resultados puedo esperar?

La cirugía de ginecomastia usualmente es un procedimiento ambulatorio. Inmediatamente después de su procedimiento, pasará un tiempo en la sala de recuperación y será dado de alta después de cumplir con todos los criterios de salud y seguridad. Si su cirugía es un procedimiento ambulatorio, debe hacer arreglos para que alguien lo lleve a su casa después y se quede con usted al menos la primera noche después de la cirugía.

Después de la cirugía, el área del tórax puede presentar magulladuras, hinchazón y dolor durante una o dos semanas. Deberá usar una camisa de compresión después de su operación. Se le permitirá ducharse el día después de su cirugía. Con el tiempo, la hinchazón mejorará, las incisiones se desvanecerán y se harán menos notables, y la apariencia del pecho continuará mejorando. Después de la ginecomastia, es posible que experimente algún cambio en la sensación de tórax y pezón, sin embargo, la sensación regresa gradualmente.

Los resultados de su cirugía serán duraderos. Podrá mantener los resultados de su procedimiento siguiendo un estilo de vida saludable y vigilando su peso.

¿Existen riesgos con la reducción mamaria masculina o la liposucción?

Algunos riesgos que pueden estar asociados con la cirugía de ginecomastia incluyen:

Sangría
Cicatrización
Infección
Asimetría
Cambios en la sensación de la pared torácica o pezones.
Reaparición
Problemas con la cicatrización de heridas.
Sin embargo, estos riesgos son inusuales y el Dr. Dee toma extremo cuidado para minimizar la posibilidad de que le ocurran.

¿Cuál es el costo de la cirugía de reducción mamaria masculina?

El costo de la cirugía de mama masculina varía según el procedimiento elegido. Ofrecemos planes de financiamiento para pacientes, así que asegúrese de preguntar. El costo incluirá lo siguiente:

Honorarios del cirujano
Honorarios hospitalarios o quirúrgicos
Honorarios de anestesia
Los detalles de estos honorarios y planes de financiamiento se explicarán durante su consulta con el Dr. Dee. Llame al 210-265-1924 para su cita, o contáctenos por correo electrónico.

Su satisfacción implica más que una tarifa. Al elegir un cirujano plástico para su área de preocupación, recuerde que su comodidad con el cirujano y su voluntad de ser honesto es tan importante como el costo final de la cirugía. En Elite Plastic & Reconstructive Surgery, el Dr. Dee se toma su tiempo para comprender sus objetivos y su deseo de obtener el mejor resultado a largo plazo.