How do I get wrinkles?
Throughout the entire day our facial muscles are contracting to help raise our eyebrows, close our eyes or pucker our lips. Unfortunately these normal repeated muscle contractions eventually cause lines and wrinkles that may make us look older, angry, or surprised.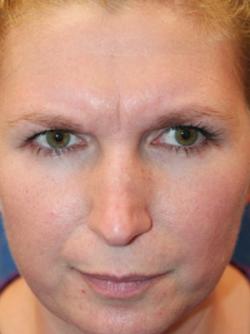 Before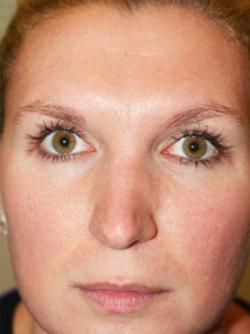 After
View more before and after photos

In addition some of us spend a lot of time in the sun which causes further skin damage while others are exposed to the damaging effects of tobacco, and finally some people's genetic predisposition lead to formation of skin wrinkles. To some degree we can control environmental factors, however by the time we take notice of these wrinkles, the damage may be permanent or it may take some time to reverse the damage. To help improve the appearance of these lines and wrinkle Botox®Cosmetic is a non-invasive treatment option that can help you look younger and refreshed.
Request a private consultation
At Elite Plastic & Reconstructive Surgery, Dr. Chattar-Cora will sit down with you to evaluate your expectations, examine your areas of concern and make a recommendation about how to achieve your goals.
What is Botox®Cosmetic?
It is a FDA approved protein derived from the bacteria Clostridium Botulinum. For over twenty years Botox®Cosmetic has been used to reduce unwanted muscle activity in the eye and nerves. However it is best known for its use in cosmetic medicine to reduce wrinkles that make us look old, tired or angry. With Botox®Cosmetic those lines can be eliminated to make you look rejuvenated, refreshed and young.
How is Botox®Cosmetic given? How does Botox® Cosmetic injections work?
Botox®Cosmetic is shipped in powder form to our office in San Antonio. Dr. Chattar-Cora will personally mix it and then he will personally administer it. It is important for you to understand that the number of units that are given is what is important, not the volume since different physicians will vary the volume of fluid used to mix it.
Dr. Chattar-Cora will use a short thin needle to deliver the Botox ® Cosmetic into the muscles that are causing the wrinkles; the medication then blocks contractions in the muscle into which it is injected, thus allowing the skin to smooth out and become unwrinkled. Untreated muscles are not affected. After you are injected to help avoid spreading the medication to muscles that were not injected, you should avoid massaging the area that was treated.
Request a private consultation
When should I see the effects of Botox®Cosmetic? How long will the effects of Botox®Cosmetic last?
Although results vary from patient to patient, after injection, it may take anywhere from three to seven days for you to see the effects of Botox®Cosmetic. The results may last up to six months, at which point re treatment is possible.
Are there any side effects from Botox®Cosmetic injection?
Occasionally there may be small areas of bruising at the injection site, but these will resolve quickly.
¿Cómo consigo las arrugas?
A lo largo del día, nuestros músculos faciales se contraen para ayudar a levantar las cejas, cerrar los ojos o fruncir los labios. Desafortunadamente, estas contracciones musculares repetitivas eventualmente causan líneas y arrugas que pueden hacernos parecer mayores, enojados o sorprendidos.
Además, algunos de nosotros pasamos mucho tiempo bajo el sol, lo que causa más daño a la piel, mientras que otros estamos expuestos a los efectos dañinos del tabaco y, finalmente, la predisposición genética de algunas personas conduce a la formación de arrugas en la piel. Hasta cierto punto, podemos controlar los factores ambientales, sin embargo, cuando nos damos cuenta de estas arrugas, el daño puede ser permanente o puede tomar algún tiempo para corregir el daño. Para ayudar a mejorar la apariencia de estas líneas y arrugas, Botox®Cosmetic es una opción de tratamiento no invasivo que puede ayudarlo a verse más joven y renovado.
En Elite Plastic & Reconstructive Surgery, el Dr. Chattar-Cora se sentará con usted para evaluar sus expectativas, examinar sus áreas de preocupación y hacer una recomendación sobre cómo alcanzar sus metas.
¿Qué es Botox®Cosmetic?
Es una proteína aprobada por la FDA derivada de la bacteria Clostridium Botulinum. Durante más de veinte años, Botox se ha utilizado para reducir la actividad muscular no deseada en los ojos y los nervios. Sin embargo, es mejor conocido por su uso en medicina cosmética para reducir las arrugas que nos hacen parecer viejos, cansados o enojados. Con Botox®Cosmetic, esas líneas pueden eliminarse para hacerte lucir rejuvenecido, renovado y joven.
¿Cómo se administra Botox®Cosmetic? ¿Cómo funcionan las inyecciones de Botox® Cosmetic?
Botox®Cosmetic se envía en polvo a nuestra oficina en San Antonio. El Dr. Chattar-Cora lo mezclará personalmente y luego lo administrará personalmente. Es importante que entienda que la cantidad de unidades administradas es lo que importa, no el volumen, ya que los diferentes médicos variarán el volumen de fluido utilizado para mezclarlo.
El Dr. Chattar-Cora utilizará una aguja delgada y corta para administrar el Botox ® Cosmetic en los músculos que causan las arrugas; el medicamento luego bloquea las contracciones en el músculo en el que se inyecta, lo que permite que la piel se suavice y se arrugue. Los músculos no tratados no se ven afectados. Después de recibir la inyección para ayudar a evitar que el medicamento se extienda a los músculos que no fueron inyectados, debe evitar masajear el área que fue tratada.
¿Cuándo debo ver los efectos de Botox ®Cosmetic? ¿Cuánto tiempo durarán los efectos de Botox ®Cosmetic?
Aunque los resultados varían de un paciente a otro, después de la inyección, puede tomar de tres a siete días para ver los efectos de Botox ®Cosmetic. Los resultados pueden durar hasta seis meses, en ese momento en el que es posible un nuevo tratamiento.
¿Hay efectos secundarios de la inyección de Botox®Cosmetic?
En ocasiones, puede haber pequeñas áreas de moretones en el lugar de la inyección, pero éstas se resolverán rápidamente.