What is "Brazilian Butt Lift?"
As we age our skin loses elasticity, muscles and fat begin to move and everything starts to drop. After significant weight loss this is also a common concern. This can be seen in a patient's gluteal or butt area. A butt lift procedure is designed to elevate and augment the gluteal area to a more rejuvenated and attractive position. A butt lift is often performed as part of a body contouring or body lift procedure; however it is also performed on its own.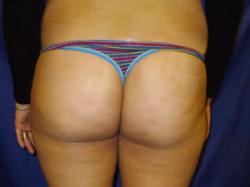 Before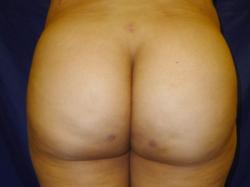 After
View more before and after photos

Lifting the gluteal region is done by removing excess skin and tightening the remaining tissues. However to augment the gluteal region there are two ways of doing this: use of silicone implants or with fat grafting. The use of silicone gluteal implants is fraught with many complications thus fat grafting is now becoming the material of choice to enhance the gluteal region. The Brazilian butt lift is a surgical body enhancing procedure in which liposuction is used to remove fat from unwanted areas of the body and used to enhance and sculpt a patient's gluteal region (butt). Many patients believe that the main focus of this procedure is to increase the size of the buttocks. However, the Brazillian butt lift actually is a sculpting process in which the lower back, thighs, hips and butt region are all examined and treated in order to enhance the appearance of the gluteal region.
Request a private consultation
If one critically examines the gluteal area one will notice that the appearance of the butt is influenced by the lower back, the hips on the sides, and the thighs at the lowest point of the butt. Some patients may have abnormal amounts of fat that accumulated in the lower back creating a hump that distorts the beauty of the gluteal area; While other patients may have accumulated excess amounts of fat in the hips or thighs which may distort the appearance of the butt. When enhancing the gluteal region, attention is focused on the complete area to obtain an aesthetically pleasing result. To achieve this goal liposuction may be performed on the lower back, hips, and thighs to improve the appearance of the buttocks. That fat obtained from liposuction can then be processed and separated into pure fat cells. It is these fat cells that Dr. Chattar-Cora will use to enhance and sculpt a better appearing butt for his patients.
Why is fat used? Although there are other ways to augment the gluteal area, fat is the most useful: it is soft and similar to the rest of the patient's body, because of its natural properties it allows the surgeon to shape the gluteal area in a more aesthetic manner, once the fat is successfully transferred it will not be rejected, and by removing the fat from one part of the body it actually improves the appearance of the patient.
What parts of my body can be used for fat transfer?
Fat can be taken from the abdomen, flanks, upper and lower back, and thighs; that fat can then be processed and then transferred to another area. For the procedure to be successful, it is equally important to be able to remove enough fat from the donor site and leave enough fat at the donor sites so that the appearance at both the donor site and butt are pleasing to the patient. The Brazilian butt lift requires that the patient have a certain amount of excess fat. The patient should be approximately 20 lbs. above their ideal body weight. To see a marked improvement in the average sized patient 650cc to 750 cc of fat is transferred into each buttock.
Request a private consultation
Where is the procedure done?
Because our patient's safety is our main concern your Brazillian butt lift surgical procedure will be done under sterile conditions in a certified operating room with the use of sedation and tumescent anesthesia. An anesthesiologist will provide sedation that will help relieve the anxiety associated with any surgical procedure and provide amnesia so that the patient does not recall any of the operation. Once the patient is comfortable the anesthetic will be administered.
Dr. Chattar-Cora finds that using this anesthetic technique allows him to modify the procedure as needed during the operation. Patients are able to stand up and move around so that he can check for symmetry and appearance; if he has to remove more fat from an area or add more fat to an area he can. With general anesthesia, patients are not able to stand up and have the appearance of the operation evaluated and modified as needed.
What is recuperation from a Brazillian butt lift?
Following your Brazilian butt lift surgery, you will be required to wear a supportive garment for six weeks. Dr. Chattar-Cora encourages his patients to begin walking the day of the procedure, and depending on the patient's occupation he expects his patients to be able to return to work within one week. Dr. Chattar-Cora encourages his patients to follow a well-balanced diet but there are no limitations on which diet the patient follows after their procedure.
You are allowed to shower the day after surgery. Recuperation after liposuction will vary depending on the donor sites used. Light activity is comfortable in 7 to 20 days. During the six weeks following your procedure contact sports such as kick boxing or martial arts are discouraged.
As with any surgical procedure some swelling and bruising is to be expected. Pain is usually managed with Tylenol, but Dr. Chattar-Cora will prescribe stronger medication if you require it. You can drive a car once your pain is controlled without prescription medications.
Request a private consultation
Am I a candidate for a Brazillian butt lift?
A good candidate for gluteal augmentation should have realistic expectations about the results of the procedure. They should be motivated to maintain their results after the procedure.
Age is not a consideration when discussing Brazillian butt lift. However, older adults often have less elasticity in their skin and thus may not achieve the same results that a younger person with tighter skin might get.
When you come to Elite Plastic & Reconstructive Surgery, Dr. Chattar-Cora will meet with you to find out what your expectations are for gluteal enhancement; he will then perform a thorough history, and examine you to design a custom approach for you.
What will it cost?
The cost of a Brazillian Butt Lift in San Antonio varies based on the type of procedure that is done. We offer patient financing plans, so be sure to ask. The cost may include the following:
Surgeon's fee
Hospital or surgical facility costs
Anesthesia fees
For your Brazillian butt lift, Elite Plastic & Reconstructive Surgery is the right place to go to. Dr. Chattar-Cora will consult with you on all aspects of the procedure, including cost. Your satisfaction involves more than a fee. When choosing a plastic surgeon, remember that your comfort with him or her are just as important as the final cost of the surgery. Dr Chattar-Cora takes his time to understand your goals and desires for the best long term outcome.
Most health insurance plans will not cover cosmetic surgery related complications, or another surgery to revise the appearance of your treated area(s). You must carefully review your health insurance policy.
¿Qué es el "Levantamiento de glúteos brasileño"?
Mientras envejecemos, nuestra piel pierde elasticidad, los músculos y la grasa comienzan a moverse y todo comienza a caer. Después de la pérdida de peso significativa esto también es una preocupación común. Esto se puede ver en el área glúteo o trasero de un paciente. Un procedimiento de levantamiento de glúteos está diseñado para elevar y aumentar la área glútea a una posición más rejuvenecida y atractiva. Un levantamiento de glúteos a menudo se realiza como parte de un procedimiento de contorno corporal o levantamiento de cuerpo; Sin embargo, también se realiza por su cuenta.
El levantamiento de la región glúteo se realiza eliminando el exceso de piel y tensando los tejidos restantes. Sin embargo, para aumentar la región glútea hay dos formas de hacerlo: el uso de implantes de silicona o con injertos de grasa. El uso de implantes glúteos de silicona está plagado de muchas complicaciones, por lo que el injerto de grasa se está convirtiendo en el material de elección para mejorar la región glútea. El levantamiento de glúteos brasileño es un procedimiento quirúrgico para mejorar el cuerpo en el que se utiliza la liposucción para eliminar la grasa de las áreas no deseadas del cuerpo y se utiliza para realzar y esculpir la región glútea del paciente. Muchos pacientes creen que el enfoque principal de este procedimiento es aumentar el tamaño de las nalgas. Sin embargo, la elevación de glúteos de Brazillian en realidad es un proceso de escultura en el que se examinan y tratan la región lumbar, los muslos, las caderas y las nalgas para mejorar la apariencia de la región glútea.
Si uno examina críticamente el área glútea, notará que la apariencia de la area gluteal est influenciada por la parte inferior de la espalda, las caderas de los lados y los muslos en el punto más bajo de la culata. Algunos pacientes pueden tener cantidades anormales de grasa que se acumulan en la espalda baja, creando una joroba que distorsiona la belleza del área glútea; Mientras que otros pacientes pueden haber acumulado cantidades excesivas de grasa en las caderas o los muslos, lo que puede distorsionar la apariencia del trasero. Al mejorar la región glútea, la atención se centra en el área completa para obtener un resultado estéticamente agradable. Para lograr este objetivo, la liposucción se puede realizar en la parte baja de la espalda, las caderas y los muslos para mejorar la apariencia de los glúteos. Esa grasa obtenida de la liposucción puede luego procesarse y separarse en células de grasa pura. Estas son las células grasas que utilizará el Dr. Chattar-Cora para realzar y esculpir un trasero de apariencia mejor para sus pacientes.
¿Por qué se utiliza la grasa?
Aunque existen otras formas de aumentar el área glútea, la grasa es la más útil: es suave y similar al resto del cuerpo del paciente, debido a sus propiedades naturales, le permite al cirujano dar forma al área glútea de una manera más estética. Una vez que la grasa se transfiere con éxito, no se rechazará, y al eliminar la grasa de una parte del cuerpo realmente mejora la apariencia del paciente.
¿Qué partes de mi cuerpo pueden usarse para transferir grasa?
La grasa se puede extraer del abdomen, los flancos, la parte superior e inferior de la espalda y los muslos; esa grasa puede ser procesada y luego transferida a otra área. Para que el procedimiento sea exitoso, es igualmente importante poder eliminar suficiente grasa del sitio donante y dejar suficiente grasa en los sitios donadores para que la apariencia tanto en el sitio donante como en el trasero sea agradable para el paciente. El levantamiento de glúteos brasileño requiere que el paciente tenga una cierta cantidad de exceso de grasa. El paciente debe ser de aproximadamente 20 libras. por encima de su peso corporal ideal. Para ver una mejora notable en el tamaño promedio del paciente, se transfieren de 650 cc a 750 cc de grasa en cada nalga.
¿Dónde se realiza el procedimiento?
Debido a que la seguridad de nuestro paciente es nuestra principal preocupación, su procedimiento quirúrgico de lifting de glúteos en Brazillian se realizará bajo condiciones estériles en una sala de operaciones certificada con el uso de sedación y anestesia tumescente. Un anestesiólogo proporcionará sedación que ayudará a aliviar la ansiedad asociada con cualquier procedimiento quirúrgico y proporcionará amnesia para que el paciente no recuerde ninguna de las operaciones. Una vez que el paciente se sienta cómodo se le administrará anestesia.
El Dr. Chattar-Cora encuentra que el uso de esta técnica anestésica le permite modificar el procedimiento según sea necesario durante la operación. Los pacientes pueden pararse y moverse para que él pueda verificar la simetría y la apariencia; si tiene que eliminar más grasa de un área o agregar más grasa a un área que pueda. Con la anestesia general, los pacientes no pueden levantarse y la apariencia de la operación se evalúa y modifica según sea necesario.
¿Qué es la recuperación de un elevador trasero brasileño?
Después de su cirugía de elevación de glúteos brasileña, se le requerirá que use una prenda de apoyo durante seis semanas. El Dr. Chattar-Cora alienta a sus pacientes a comenzar a caminar el día del procedimiento y, dependiendo de la ocupación del paciente, espera que sus pacientes puedan regresar al trabajo dentro de una semana. El Dr. Chattar-Cora alienta a sus pacientes a seguir una dieta bien balanceada, pero no hay limitaciones sobre qué dieta sigue el paciente después de su procedimiento.
Se le permite ducharse el día después de la cirugía. La recuperación después de la liposucción variará dependiendo de los sitios donantes utilizados. La actividad ligera es cómoda en 7 a 20 días. Durante las seis semanas despues de a su procedimiento, se desalientan los deportes de contacto, como el kick boxing o las artes marciales.
Al igual que con cualquier procedimiento quirúrgico, es de esperar que se presente hinchazón y moretones. El dolor generalmente se maneja con Tylenol, pero el Dr. Chattar-Cora le recetará medicamentos más fuertes si lo necesita. Puede conducir un automóvil una vez que su dolor esté controlado sin medicamentos recetados.
¿Soy candidato para un levantamiento de trasero brasileño?
Un buen candidato para el aumento de glúteos debe tener expectativas realistas sobre los resultados del procedimiento. Deben estar motivados para mantener sus resultados después del procedimiento.
La edad no es una consideración cuando se habla del levantamiento de glúteos brasileño. Sin embargo, los adultos mayores a menudo tienen menos elasticidad en su piel y, por lo tanto, posiblemente no lograran los mismos resultados que una persona más joven con una piel más tensa podría obtener.
Cuando venga a Elite Plastic & Reconstructive Surgery, el Dr. Chattar-Cora se reunirá con usted para averiguar cuáles son sus expectativas para la mejora de los glúteos; luego realizará un historial completo y la examinará para diseñar un enfoque personalizado para usted.
¿Cuánto costará?
El costo de un Levantamiento de glúteos brasileño en San Antonio varía según el tipo de procedimiento que se realiza. Ofrecemos planes de financiamiento para pacientes, así que asegúrese de preguntar. El costo puede incluir lo siguiente:
Honorarios del cirujano
Costos hospitalarios o quirúrgicos
Honorarios de anestesia
Para su levantamiento de glúteos de Brazillian, Elite Plastic & Reconstructive Surgery es el lugar adecuado para ir. El Dr. Chattar-Cora consultará con usted sobre todos los aspectos del procedimiento, incluido el costo. Su satisfacción implica más que una tarifa. Al elegir un cirujano plástico, recuerde que su comodidad con él o ella es tan importante como el costo final de la cirugía. El Dr. Chattar-Cora se toma su tiempo para comprender sus metas y deseos para el mejor resultado a largo plazo.
La mayoría de los planes de seguro de salud no cubrirán las complicaciones relacionadas con la cirugía estética u otra cirugía para revisar la apariencia de su (s) área (s) tratada (s). Debe revisar cuidadosamente su póliza de seguro de salud.