Skin cancer is one of the most common forms of cancer, and its incidence is quickly rising in the United States. It can affect the skin anywhere on the body, but the majority of cancers occur on the head, face, and neck; where it can be both disfiguring and dangerous. However with early detection, treatment can be curative and disfigurement can be minimized.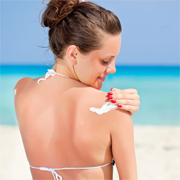 What are the causes of skin cancer? Who gets skin cancer?
The primary source of skin cancer is overexposure to ultraviolet radiation, typically from the sun or artificial sources such as sunlamps and tanning beds. The quest for the perfect sun-kissed tan, an increase in outdoor activities, and perhaps the thinning of the Earth's protective ozone layer may be factors that contribute to the upsurge of reported skin cancers cases. Skin cancer can affect anyone-no matter what the skin type, race, age, geographical location, occupation, and activity level. One is at an increased risk of developing the disease if…
You have fair skin and freckle easily.
You have blond hair and blue eyes.
You have a large number of moles, or moles of unusual size or shape.
You have a family history of skin cancer or a personal history of having sunburn as a child.
You spend a lot of time working or playing outdoors.
You live closer to the equator, at a higher altitude, or in any place that gets intense, year-round sunshine.
You received therapeutic radiation treatments for adolescent acne.
Types of skin cancer
The most common skin cancer is basal cell carcinoma. Fortunately, it's also the least dangerous skin cancer–it tends to grow slowly, and rarely spreads beyond its original site. Basal cell cancer is rarely life-threatening, however if left untreated it can grow deep beneath the skin and into the underlying tissue and bone, causing serious damage and disfigurement.
Request a private consultation
Squamous cell carcinoma is the second most common skin cancer, frequently appearing on the lips, face, or ears. It can spread to distant sites, including lymph nodes and internal organs. If it's not treated squamous cell carcinoma can become life threatening.
The third most common form of skin cancer is also the most dangerous: melanoma. Its prevalence is increasing rapidly, most notably in the southern states. If diagnosed early enough, the disease can be cured. A delayed in its diagnosis may result in the cancer spreading throughout the body, which is often deadly.
Recognizing and diagnosing of skin cancer
Basal and squamous cell carcinomas may vary widely in appearance. These cancers often begin as: small, white, or pink nodules or bumps that are smooth, shiny, waxy, or pitted on the surface; a red and rough, dry, or scaly area of the skin; a firm, red lump that may form a crusted outer layer; a crusted group of nodules; a bleeding sore that does not heal after two to four weeks; or a white patch that resembles a scar.
Malignant melanoma may present as a "mole" that has undergone a change in size, shape, or color. Telltale signs of melanoma, or any skin cancer, are changes in the "ABCD" warning signs: Asymmetry- a skin growth that, if divided in half, both sides are uneven; Borders that are lumpy; Color- a mix of different colors with shades of tan, brown, and black, occasionally with hints of red, white, or blue; and Diameter- larger than 6 millimeters across (roughly the size of a standard pencil's eraser) or any unusual size increase.
The most important thing a patient can do to help in the fight against skin cancer is to know their skin and examine it regularly, from the top of your head to the soles of your feet If you notice any unusual changes on any part of your body, have a doctor check it out.
Request a private consultation
Patients can take part in the fight against skin cancer by familiarizing themselves with their own skin and examine it in its entirety on a regular basis. If any unusual changes are noted on any part of the body, contact a physician immediately to schedule an examination.
If you're concerned about skin cancer, a primary care physician is a good place to start. The doctor can examine your skin and either obtain a specimen for evaluation under the microscope, or refer you to a specialist.
Treatment
A skin cancer diagnosis comes after all or part of the area in question has been removed and its cells examined beneath a microscope. Depending on the form of cancer, its size, its location on the body, and whether or not it has spread, treatment may include a variety methods.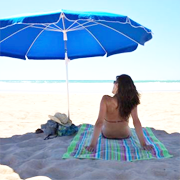 Most skin cancers are removed surgically. If the cancer is small, the procedure can be done quickly and easily, in an outpatient facility or the physician's office, using local anesthesia. The procedure may be a simple removal, which usually leaves a thin, barely visible scar. Or curettage (scraping) and desiccation (drying out) may be performed. Both may leave a slightly larger white scar. In either case, the risks affiliated with each procedure are low.
However if the cancer is large, or if it has spread, major surgery may be required. Other options for treatments include cryosurgery (freezing the cancer cells), radiation therapy (using x-rays), topical chemotherapy (anti-cancer drugs applied to the skin), and Mohs surgery, a special procedure in which the cancer is shaved off one layer at a time. (Mohs surgery is performed only by specially trained physicians; it is not uncommon after Mohs surgery to require a reconstructive procedure).
For most basal cell and squamous cell cancers -and even for malignant melanoma, if it's caught early, all of the treatments mentioned above, when chosen carefully, have good cure rates. Before beginning any treatment, all options and possible outcomes should be thoroughly discussed with a physician. It is imperative that factors taken into account when selecting a treatment option include effectiveness of the recommended treatment, possible risks and side effects of each treatment, and expected functional and cosmetic results. If doubts regarding the outcome exist, obtain a second opinion from a physician specializing in plastic and reconstructive surgery before beginning treatment.
Request a private consultation
Reconstruction of defects secondary to skin cancers
Many of the different techniques available for treating skin cancers are lifesaving, but they may leave a patient with less than pleasing cosmetic or functional results. Depending on the location and severity of the cancer, the consequences may range from a small but unsightly scar to permanent changes in facial structures such as your nose, ear, or lip, or on extremities it may cause functional consequences.
If you happen to have an unsightly scar or functional problem caused by scarring or the procedure itself, consult a board certified plastic & reconstructive surgeon to discuss possible solutions. Possible reconstructive options range from a simple scar revision to complicated procedures that involve transplanting layers of tissue from one area of the body to another.
As a board certified plastic & reconstructive surgeon Dr. Chattar-Cora with additional training in hand and microsurgery he has extensive experience treating many skin cancers, and if necessary reconstructing the deformities in an aesthetically pleasing and with minimal deformity.
El cáncer de piel es una de las formas más comunes de cáncer y su incidencia está aumentando rápidamente en los Estados Unidos. Puede afectar la piel en cualquier parte del cuerpo, pero la mayoría de los cánceres se presentan en la cabeza, la cara y el cuello; Donde puede ser tanto desfigurante como peligroso. Sin embargo, con la detección temprana, el tratamiento puede ser curativo y la desfiguración puede minimizarse.
¿Cuáles son las causas del cáncer de piel?
La principal fuente de cáncer de piel es la sobreexposición a la radiación ultravioleta, generalmente del sol o de fuentes artificiales como lámparas solares y camas de bronceado. La búsqueda del bronceado perfecto besado por el sol, el aumento de las actividades al aire libre y quizás el adelgazamiento de la capa protectora de ozono de la Tierra pueden ser factores que contribuyan al aumento de casos notificados de cáncer de piel. El cáncer de piel puede afectar a cualquier persona, sin importar el tipo de piel, raza, edad, ubicación geográfica, ocupación y nivel de actividad. Uno tiene un mayor riesgo de desarrollar la enfermedad si …
Tienes piel clara y te pecas fácilmente.
Tienes cabello rubio y ojos azules.
Tiene una gran cantidad de lunares, o lunares de forma o tamaño inusual.
Tiene un historial familiar de cáncer de piel o un historial personal de quemaduras solares cuando era niño.
Pasas mucho tiempo trabajando o jugando al aire libre.
Vive más cerca del ecuador, a una altitud mayor o en cualquier lugar que reciba sol intenso durante todo el año.
Recibió tratamientos de radiación terapéutica para el acné adolescente.
Tipos de cancer de piel
El cáncer de piel más común es el carcinoma de células basales. Afortunadamente, también es el cáncer de piel menos peligroso: tiende a crecer lentamente y rara vez se propaga más allá de su sitio original. El cáncer de células basales rara vez es potencialmente mortal, sin embargo, si no se trata, puede crecer por debajo de la piel y penetrar en el tejido y el hueso subyacente, causando graves daños y desfiguración.
El carcinoma de células escamosas es el segundo cáncer de piel más común, que aparece con frecuencia en los labios, la cara o las orejas. Puede propagarse a sitios distantes, incluidos los ganglios linfáticos y los órganos internos. Si no se trata, el carcinoma de células escamosas puede ser potencialmente mortal.
La tercera forma más común de cáncer de piel es también la más peligrosa: el melanoma. Su prevalencia está aumentando rápidamente, sobre todo en los estados del sur. Si se diagnostica a tiempo, la enfermedad se puede curar. Un retraso en su diagnóstico puede ocasionar que el cáncer se propague por todo el cuerpo, lo que a menudo es mortal.
Reconocimiento y diagnóstico de cáncer de piel.
Los carcinomas basales y de células escamosas pueden variar ampliamente en apariencia. Estos cánceres a menudo comienzan como: nódulos pequeños, blancos o rosados o protuberancias que son lisas, brillantes, cerosas o picadas en la superficie; un área roja y áspera, seca o escamosa de la piel; un bulto firme y rojo que puede formar una capa exterior costrosa; un grupo de nódulos en la corteza; una úlcera sangrante que no se cura después de dos a cuatro semanas; o una mancha blanca que se asemeja a una cicatriz.
El melanoma maligno puede presentarse como un "lunar" que ha sufrido un cambio en el tamaño, la forma o el color. Los signos de melanoma, o cualquier cáncer de piel, son cambios en los signos de advertencia "ABCD": Asimetría: un crecimiento de la piel que, si se divide por la mitad, ambos lados son desiguales; Fronteras que son bultos; Color: una mezcla de diferentes colores con tonos marrón, marrón y negro, ocasionalmente con tonos de rojo, blanco o azul; y Diámetro mayor de 6 milímetros a lo ancho (aproximadamente el tamaño de un borrador de lápiz estándar) o cualquier aumento de tamaño inusual.
Lo más importante que un paciente puede hacer para ayudar en la lucha contra el cáncer de piel es conocer su piel y examinarla regularmente, los pacientes pueden participar en la lucha contra el cáncer de piel al familiarizarse con su propia piel y examinarla en su totalidad en una base regular. Si se observa algún cambio inusual en alguna parte del cuerpo, comuníquese con un médico de inmediato para programar un examen.
Si le preocupa el cáncer de piel, un médico de atención primaria es un buen lugar para comenzar. El médico puede examinar su piel y obtener una muestra para su evaluación bajo el microscopio o referirlo a un especialista.
Tratamiento
Un diagnóstico de cáncer de piel se produce después de que se haya eliminado todo o parte del área en cuestión y sus células se hayan examinado bajo un microscopio. Dependiendo de la forma del cáncer, su tamaño, su ubicación en el cuerpo y si se ha diseminado o no, el tratamiento puede incluir una variedad de métodos. Desde la parte superior de su cabeza hasta las plantas de sus pies. Si observa algún cambio inusual en En cualquier parte de su cuerpo, pídale a un médico que lo revise.
La mayoría de los cánceres de piel se extirpan quirúrgicamente. Si el cáncer es pequeño, el procedimiento se puede realizar de forma rápida y sencilla, en un centro ambulatorio o en el consultorio del médico, utilizando anestesia local. El procedimiento puede ser una extracción simple, que generalmente deja una cicatriz delgada y apenas visible. O se pueden realizar curetaje (raspado) y desecación (secado). Ambos pueden dejar una cicatriz blanca ligeramente más grande. En cualquier caso, los riesgos asociados con cada procedimiento son bajos.
Sin embargo, si el cáncer es grande o si se ha diseminado, es posible que se requiera una cirugía mayor. Otras opciones de tratamiento incluyen la criocirugía (congelar las células cancerosas), la radioterapia (usar rayos X), la quimioterapia tópica (medicamentos contra el cáncer aplicados en la piel) y la cirugía de Mohs, un procedimiento especial en el que se elimina el cáncer. capa a la vez. (La cirugía de Mohs se realiza solo por médicos especialmente capacitados; no es infrecuente que después de la cirugía de Mohs se requiera un procedimiento reconstructivo).
Para la mayoría de los cánceres de células basales y de células escamosas, e incluso para el melanoma maligno, si se detecta temprano, todos los tratamientos mencionados anteriormente, cuando se eligen con cuidado, tienen buenos índices de curación. Antes de comenzar cualquier tratamiento, todas las opciones y los posibles resultados deben discutirse a fondo con un médico. Es imperativo que los factores que se toman en cuenta al seleccionar una opción de tratamiento incluyan la efectividad del tratamiento recomendado, los posibles riesgos y los efectos secundarios de cada tratamiento, y los resultados funcionales y cosméticos esperados. Si existen dudas sobre el resultado, obtenga una segunda opinión de un médico especializado en cirugía plástica y reconstructiva antes de comenzar el tratamiento.
Reconstrucción de defectos secundarios a cánceres de piel.
Muchas de las diferentes técnicas disponibles para tratar los cánceres de piel salvan vidas, pero pueden dejar al paciente con resultados cosméticos o funcionales menos que agradables. Dependiendo de la ubicación y la gravedad del cáncer, las consecuencias pueden ir desde una cicatriz pequeña pero desagradable hasta cambios permanentes en las estructuras faciales, como la nariz, las orejas o los labios, o en las extremidades, lo que puede causar consecuencias funcionales.
Si tiene una cicatriz antiestética o un problema funcional causado por la cicatrización o el procedimiento en sí, consulte a un cirujano plástico y reconstructivo certificado por la junta para discutir posibles soluciones. Las posibles opciones de reconstrucción abarcan desde una simple revisión de cicatrices hasta procedimientos complicados que involucran el trasplante de capas de tejido de un área del cuerpo a otra.
Como cirujano certificado en cirugía plástica y reconstructiva, el Dr. Chattar-Cora, con capacitación adicional en microcirugía y microcirugía, tiene una amplia experiencia en el tratamiento de muchos cánceres de piel y, si es necesario, en la reconstrucción de las deformidades en una estética agradable y con una deformidad mínima.