If you have unwanted localized areas of fat on your body, you are not alone. A balanced diet and exercise are the best ways to reduce fat and improve your body's contour. However, there may be certain areas of fat that will not go away no matter how hard you try. The difficulty in getting rid of these areas may be due to genetics rather than dieting or exercise. Liposculpting with the use of liposuction can be used to improve these areas, your overall appearance and ultimately your self confidence. Liposuction is not a substitute for weight reduction, but a method of removing localized fat that does not respond to dieting and exercise.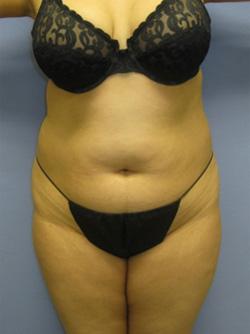 Before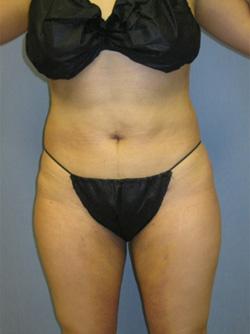 After
View more before and after photos

Liposuction surgery can be used to treat fat pockets in many parts of the body including:
Abdomen and waist
Thighs and hips
Arms, bra rolls and back
Inner knee
Chest
Chin
Ankles
Liposuction may be performed by itself or with other procedures such as a facelift, breast reduction, or a tummy tuck.
This surgical procedure uses hollow tubes or cannulas and a vacuum machine to remove unwanted fat. During the procedure a small cannula is passed through small incisions in the skin and manipulated in a way that the unwanted fat is broken up and passes into the cannula and then is removed by the attached machine.
Who is a good candidate for liposuction?
A good candidate for liposuction should have realistic expectations about the results of the procedure. They should be motivated to maintain their results after the procedure. In addition, he or she should:
Be of average or only slightly above-average weight
Have elastic skin with few stretch marks
Be in good overall health
Have localized pockets of fat that do not respond well to diet and exercise
Age is not a consideration when discussing liposuction. However, older adults often have less elasticity in their skin and thus may not achieve the same results that a younger person with tighter skin might get.
Request a private consultation
Overweight patients may be candidates for liposuction as long as their expectations are appropriate. These patients may also have less skin elasticity and thus they may have some loose skin after the procedure.
People with cellulite are not good candidates for liposuction because they may develop skin irregularities in the treated area.
Frequently Asked Questions
When considering body contouring surgery, how do I determine if I should have a tummy tuck or liposuction?
The choice of which procedure to have is based on several factors:
The patient's expectations
The patient's medical history
The patient's physical findings of the fat deposits, muscles, and skin quality
The patient's social situation since each procedure has different periods of recuperation
During your surgical evaluation Dr. Chattar-Cora will listen to your concerns and expectations. He will then get a history and perform a physical examination on the areas that concern you. Since Dr. Dee's primary goal is to give you a harmonious cosmetic outcome that meets your stated goals, he may bring to your attention areas that you were not aware of.
How long will my surgery take?
Depending on what areas you are having treated and the volume of fat that is removed surgery may last from one to six hours. The choice of where the procedure is done depends on the patient's preference, and the volume of fat that is removed. If you are healthy and do not have large volumes of fat removed, the procedure can be done at a surgery center or hospital and you will go home the same day. If large amounts of fat will be removed, to ensure your safety the procedure will be done in a facility where you can stay overnight and be monitored.
Liposuction can be done under local anesthesia with medications that help you forget what is happening or under general anesthesia. The decision of how to perform the procedure is based on patient preference and if other procedures are being done.
Request a private consultation
You will return home with a compression garment for the treated areas. Use of this garment is advised for four to six weeks since it helps reduce swelling after liposuction and may help minimize skin from sagging. Once pain and soreness decrease, it is frequently more comfortable to wear lycra or spandex exercise garments. Initial discomfort is easily controlled with oral pain medication, with some patients returning to work within one to three days. Bruising and swelling usually subside in 2 to 4 weeks, and the final result takes shape over 2 to 3 months.
What will my follow up be?
You will be seen in our office within one week after your surgical procedure. Pain is usually well controlled with the medication provided to you. You can drive a car once your pain is controlled without prescription medications. Depending what procedure(s) you have done and what your activity level at work is, plan on taking one week off from work. All your routine follow-up care is included in the original surgical fee and covers one year of routine visits.
How soon can I return to normal activity?
You are allowed to shower the day after surgery. Recuperation after liposuction will vary depending on what areas are treated. Light activity is comfortable in 7 to 20 days, but contact to the liposuctioned area is discouraged for about 6 week.
What will it cost?
The cost of liposuction in San Antonio varies based on the type of procedure that is done. We offer patient financing plans, so be sure to ask. The cost may include the following:
Surgeon's fee
Hospital or surgical facility costs
Anesthesia fees
For your liposuction, Elite Plastic & Reconstructive Surgery is the right place to go to. Dr. Chattar-Cora will consult with you on all aspects of the procedure, including cost. Your satisfaction involves more than a fee. When choosing a plastic surgeon, remember that your comfort with him or her are just as important as the final cost of the surgery. Dr Chattar-Cora takes his time to understand your goals and desire for the best long term outcome.
Request a private consultation
Most health insurance plans will not cover cosmetic surgery related complications, or another surgery to revise the appearance of your treated area(s). You must carefully review your health insurance policy.
Si tiene áreas de grasa localizadas no deseadas en su cuerpo, no está solo. Una dieta equilibrada y el ejercicio son las mejores maneras de reducir la grasa y mejorar el contorno de su cuerpo. Sin embargo, puede haber ciertas áreas de grasa que no desaparecerán sin importar cuánto se esfuerce. La dificultad para deshacerse de estas áreas puede deberse a la genética en lugar de hacer dieta o hacer ejercicio. La lipoescultura con el uso de la liposucción se puede utilizar para mejorar estas áreas, su apariencia general y, en última instancia, su autoconfianza. La liposucción no es un sustituto para la reducción de peso, sino un método para eliminar la grasa localizada que no responde a la dieta y al ejercicio.
La cirugía de liposucción se puede usar para tratar las bolsas de grasa en muchas partes del cuerpo, incluyendo:
Abdomen y cintura
Muslos y caderas
Brazos, sujetador rollos y espalda.
Rodilla interna
Pecho
Barbilla
Tobillos
La liposucción se puede realizar por sí misma o con otros procedimientos, como un lifting facial, reducción de senos o una abdominoplastia.
Este procedimiento quirúrgico utiliza tubos o cánulas huecos y una máquina de vacío para eliminar la grasa no deseada. Durante el procedimiento, se pasa una pequeña cánula a través de pequeñas incisiones en la piel y se manipula de manera que la grasa no deseada se rompe y pasa a la cánula y luego la máquina adjunta la extrae.
¿Quién es un buen candidato para la liposucción?
Un buen candidato para la liposucción debe tener expectativas realistas sobre los resultados del procedimiento. Deben estar motivados para mantener sus resultados después del procedimiento. Además, él o ella debe:
Ser de peso promedio o solo ligeramente superior al promedio
Tiene piel elástica con pocas estrías.
Estar en buena salud general
Tener bolsas de grasa localizadas que no responden bien a la dieta y al ejercicio
La edad no es una consideración cuando se discute la liposucción. Sin embargo, los adultos mayores a menudo tienen menos elasticidad en su piel y, por lo tanto, pueden no lograr los mismos resultados que una persona más joven con una piel más tensa podría obtener.
Los pacientes con sobrepeso pueden ser candidatos para la liposucción siempre que sus expectativas sean apropiadas. Estos pacientes también pueden tener menos elasticidad de la piel y, por lo tanto, pueden tener algo de piel suelta después del procedimiento.
Las personas con celulitis no son buenas candidatas para la liposucción porque pueden desarrollar irregularidades en la piel en el área tratada.
Preguntas frecuentes
Al considerar la cirugía de contorno corporal, ¿cómo puedo determinar si debo realizarme una abdominoplastia o una liposucción?
La elección del procedimiento a tener se basa en varios factores:
Las expectativas del paciente.
Historia clínica del paciente.
Los hallazgos físicos del paciente sobre los depósitos de grasa, los músculos y la calidad de la piel.
La situación social del paciente ya que cada procedimiento tiene diferentes periodos de recuperación.
Durante su evaluación quirúrgica, el Dr. Chattar-Cora escuchará sus inquietudes y expectativas. Luego obtendrá un historial y realizará un examen físico en las áreas que le preocupan. Dado que el objetivo principal del Dr. Dee es brindarle un resultado cosmético armonioso que cumpla con sus objetivos establecidos, puede llamar su atención sobre áreas de las que no estaba al tanto.
¿Cuánto tiempo tomará mi cirugía?
Dependiendo de las áreas en las que esté recibiendo tratamiento y del volumen de grasa que se extrae, la cirugía puede durar de una a seis horas. La elección de dónde se realiza el procedimiento depende de las preferencias del paciente y del volumen de grasa que se elimina. Si está sano y no le han extraído grandes cantidades de grasa, el procedimiento se puede realizar en un centro de cirugía o en un hospital y usted regresará a su casa el mismo día. Si se eliminarán grandes cantidades de grasa, para garantizar su seguridad, el procedimiento se llevará a cabo en una instalación donde puede pasar la noche y ser monitoreado.
La liposucción se puede realizar bajo anestesia local con medicamentos que lo ayudan a olvidar lo que está sucediendo o bajo anestesia general. La decisión de cómo realizar el procedimiento se basa en la preferencia del paciente y si se están realizando otros procedimientos.
Regresarás a casa con un vestido de compresión para las áreas tratadas. Se recomienda el uso de este vestido durante cuatro a seis semanas, ya que ayuda a reducir la hinchazón después de la liposucción y puede ayudar a minimizar la flacidez de la piel. Una vez que el dolor y la inflamaccion disminuyen, se puede usar ropa de ejercicio de lycra o spandex. La incomodidad inicial se controla fácilmente con analgésicos orales, y algunos pacientes regresan al trabajo dentro de uno a tres días. Los moretones y la hinchazón generalmente desaparecen en 2 a 4 semanas, y el resultado final toma forma en 2 a 3 meses.
¿Cuál será mi seguimiento?
Se verá en nuestra oficina dentro de una semana después de su procedimiento quirúrgico. El dolor generalmente se controla bien con la medicación que se le recete. Puede conducir un automóvil una vez que su dolor esté controlado sin medicamentos recetados. Dependiendo de los procedimientos que haya realizado y de cuál sea su nivel de actividad en el trabajo, planifique tomarse una semana de descanso. Toda su atención de seguimiento de rutina está incluida en la tarifa quirúrgica original y cubre un año de visitas de rutina.
¿Qué tan pronto puedo volver a la actividad normal?
Se le permite ducharse el día después de la cirugía. La recuperación después de la liposucción variará dependiendo de las áreas que se traten. La actividad ligera es cómoda en 7 a 20 días, pero se desaconseja el contacto con el área liposuccionada durante aproximadamente 6 semanas.
¿Cuánto costará?
El costo de la liposucción en San Antonio varía según el tipo de procedimiento que se realiza. Ofrecemos planes de financiamiento para pacientes, así que asegúrese de preguntar. El costo puede incluir lo siguiente:
Honorarios del cirujano
Costos hospitalarios o quirúrgicos
Honorarios de anestesia
Para su liposucción, Elite Plastic & Reconstructive Surgery es el lugar adecuado para ir. El Dr. Chattar-Cora consultará con usted sobre todos los aspectos del procedimiento, incluido el costo. Su satisfacción implica más que una tarifa. Al elegir un cirujano plástico, recuerde que su comodidad con él o ella es tan importante como el costo final de la cirugía. El Dr. Chattar-Cora se toma su tiempo para comprender sus objetivos y su deseo de obtener el mejor resultado a largo plazo.
La mayoría de los planes de seguro de salud no cubrirán las complicaciones relacionadas con la cirugía estética u otra cirugía para revisar la apariencia de su (s) área (s) tratada (s). Debe revisar cuidadosamente su póliza de seguro de salud.